Stockholm Radio Callsign "SDJ"
500kHz M.F. C.W. The end of an Era
On 1st February 2002 at 0001z the last broadcast on 500kHz was made from Stockholm Radio "SDJ"
The pictures below record this sad event and my sincere thanks go to Karl-Arne Markstrom SM0AOM and Mats Tengner SM0KUU for their permission to have the photographs below on my web site.
I am sure that many of you visiting this page either listened to the final broadcast, or have in the past worked the station on the air.
Here are the photographs of the end of an era for one of the BIG European Coastal Stations.
Please click on the small image for a larger version.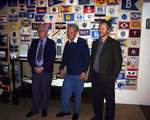 Two previous managers and the present manager of SDJ
From the left Mr. Bertil Ramgard, Mr. Leif Lindqvist & Mr. Arild Winge.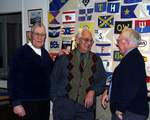 Old timers Bengt SM0YX & Lars-Anders SM0BYG in conversation with Bertil Ramgard who began his career at SDJ in 1947.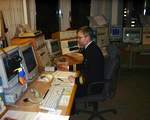 R/O Mats Jacobsson SM0GDB, appropriately dressed in his old sea going uniform, checks out the system 15 minutes before midnight UTC.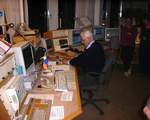 Senior R/O Bo Walther ex SM0FOV transmits the final broadcast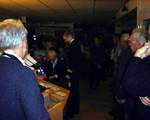 A few minutes after the closing moment Senior R/O Bo Walther ex SM0FOV finishes off the traffic. Kneeling to his left, broadcast reporter Roger Bengtsson is busy recording the event.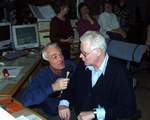 Freelance broadcast reporter Roger Bengtsson makes a recorded interview after the final transmission.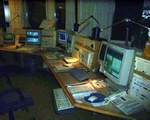 The M.F. & Channel 16 watchkeeping positions, vacated to show the equipment.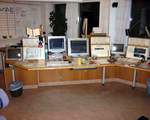 The 500kHz watchkeeping position
Group photograph of the past and present SDJ employees.
The above photographs are © Karl-Arne Markstrom SM0AOM and Mats Tengner SM0KUU and should not be reproduced elsewhere without permission.
Click HERE to return to index page